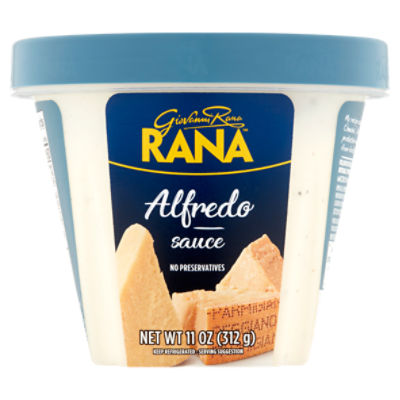 Rana Alfredo Sauce, 11 Ounce
Sale Information
On Sale!
Sales price valid from 6/19/2022 until 6/25/2022
Description
Rana Alfredo Sauce, 11 oz My recipe uses the "King of Italian Cheeses", Parmigiano Reggiano D.O.P. - a protected-origin cheese from Northern Italy. Giovanni Rana
Ingredients
Heavy Cream (Cream, Milk); Water; Parmigiano Reggiano Cheese (Cow's Milk, Salt, Rennet); Onions; Pecorino Romano Cheese (Sheep's Milk, Rennet, Salt); 2% or less of Modified Food Starch, Natural Flavors, Salt, Autolyzed Yeast Extract, Garlic, Spice;
Nutrition Facts
5 servings pr container
Product Number: 00877448006792
Sale Information
On Sale!
Sales price valid from 6/19/2022 until 6/25/2022
Description
Rana Alfredo Sauce, 11 oz My recipe uses the "King of Italian Cheeses", Parmigiano Reggiano D.O.P. - a protected-origin cheese from Northern Italy. Giovanni Rana
Product Number: 00877448006792
Ingredients
Heavy Cream (Cream, Milk); Water; Parmigiano Reggiano Cheese (Cow's Milk, Salt, Rennet); Onions; Pecorino Romano Cheese (Sheep's Milk, Rennet, Salt); 2% or less of Modified Food Starch, Natural Flavors, Salt, Autolyzed Yeast Extract, Garlic, Spice;
Nutrition Facts
5 servings pr container
Product Number: 00877448006792