Search results
P.F. Chang's Home Menu, Chicken Pad Thai Frozen Meal, 11 oz., $11.69
Rice Noodle Bowl with Chicken Breast, Bell Peppers, Carrots, and Scallions with a Tamarind Pad Thai Sauce Enjoy delicious restaurant-style flavors in the convenience of your own home with P.F. Chang's Home Menu Chicken Pad Thai. Savor the taste of a restaurant-inspired rice noodle bowl with all natural* chicken breast, bell peppers, carrots and scallions with a tamarind pad thai sauce without even having to leave your kitchen. Quick and easy to warm in the microwave, this mouthwatering frozen pad thai contains no preservatives or artificial flavors or colors so you can dine with confidence. Serve this frozen meal with other Asian-inspired dishes and bring the taste of your favorite Asian restaurant to your kitchen table with P.F. Chang's Home Menu products. Stay in. Eat like you didn't. * Minimally processed. No artificial ingredients.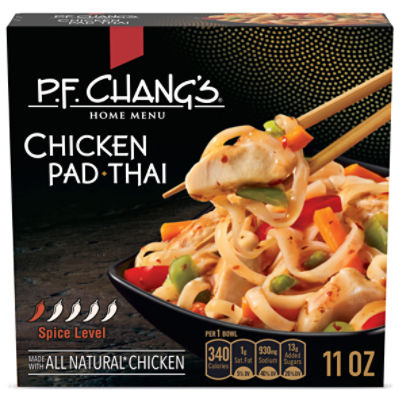 P.F. Chang's Home Menu, Chicken Pad Thai Frozen Meal, 11 oz.
Open Product Description
Rao's Chicken Parmesan, 25oz, $19.99
Rao's Chicken Parmesan, 25oz Bring home the taste of a classic Italian meal with Rao's Made for Home Chicken Parmesan frozen pasta. Rao's premium frozen meals are made with only the finest ingredients. Delicious speaks for itself when enjoying this Chicken Parmesan. Rao's Made for Home Chicken Parmesan is a premium Italian frozen meal made with crispy chicken breasts, Italian tomatoes, and durum semolina pasta. Enjoy Rao's hearty frozen pastas as we've prepared them, or make it your own by topping with Parmigiano-Reggiano and parsley from your pantry for a delicious finishing touch. Each bite brings you the warm, classic flavor of Italian cooking. Rao's Homemade, originally born in New York, now brings authentic Italian flavor to your home. Rao's Made for Home Chicken Parmesan Frozen Meal offers truly traditional homemade Italian flavor, easily available anytime in as little as 6 minutes. Rao's Made for Home frozen meals are crafted without any preservatives, artificial colors or flavors - a meal that you'll be proud to serve to your entire family. For other delicious Italian flavors, try any of our other Rao's Made for Home Frozen meals, or try our other fantastic varieties of tomato sauces, pesto sauces, or alfredo sauces.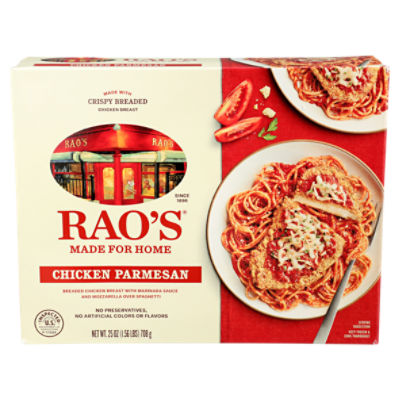 Rao's Chicken Parmesan, 25oz
Open Product Description