Search results
Amy's 3 Cheese & Kale Bake Bowls, 8.5 oz, $8.89
Amy's Mac & Cheese is an all-time favorite with kids of all ages. Thinking it would be nice to offer a special version for the more sophisticated foodies among us, Andy asked Steve, our chef in France, to create one. With true genius, Steve adapted his Gratin Dauphinoise with Spinach recipe to suit our needs, using gluten free pasta, three cheeses and organic kale. The result is superb. Kale adds texture, color and tastes delicious. The additional cheeses give an extra flavor boost to our original Mac & Cheese while keeping its smooth comfort-food feel. Here is a dish for grown-ups that kids will probably go for as well.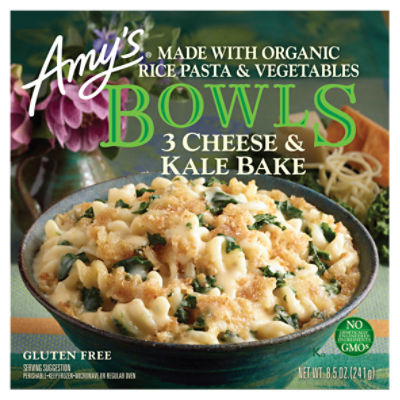 Amy's 3 Cheese & Kale Bake Bowls, 8.5 oz
Open Product Description
Offer Valid: Dec 1st - Dec 8th
Amy's Chili Mac Bowls, 9.0 oz, $8.89
Irene, who works at our Medford plant, has fond memories of chili mac for school lunch on freezing cold Michigan days. So it was only natural for her to mix a few spoonfuls of Amy's Chili with our Mac & Cheese at lunchtime. Soon others were doing the same, savoring the flavor and texture of our comforting, smooth Mac & Cheese combined with the mild spiciness of Amy's Chili. One day Irene gave some to Andy, who loved it and thought Amy's customers would as well. So here it is for you to eat and enjoy... a delicious, gluten free dish and another reminder that at Amy's, free from gluten does not mean free from flavor.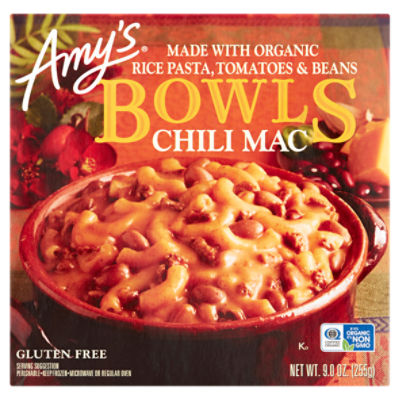 Amy's Chili Mac Bowls, 9.0 oz
Open Product Description
Offer Valid: Dec 1st - Dec 8th
Amy's Mexican Casserole Bowls, 9.5 oz, $8.89
Amy's Mexican Casserole Bowl is truly delicious. Drawing on the rich Mexican heritage of our California community, Amy's chef, Fred, has created a dish that combines the authentic flavor of the traditional tamale with the easy eating convenience of Amy's entrées in a bowl. It's made from organic white corn masa, black beans, sweet golden corn and tomatoes with olives and a careful blend of chili peppers and spices. We're sure you will welcome and thoroughly enjoy this addition to Amy's family of Mexican food.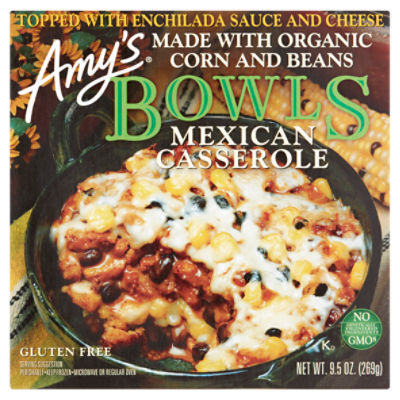 Amy's Mexican Casserole Bowls, 9.5 oz
Open Product Description
Offer Valid: Dec 1st - Dec 8th