Search results
Imagine™ Portobello Mushroom Creamy Soup 32 fl. oz. Aseptic Pack, $5.99
Imagine Portobello Mushroom Creamy Soup, 32 fl oz It starts with real ingredients. Imagine® the delicate flavor of Portobello mushrooms slowly simmered with a medley of onions, garlic, celery and potatoes in a rich and velvety broth. It's a classic starter with a decadent texture and a refined flavor. Our commitment to you: • Non-GMO Project Verified • Vegan • Non-Dairy • Gluten Free • No Added MSG • No Artificial Ingredients or Preservatives Every Imagine® Creamy Soup starts with the finest farm-grown vegetables, harvested at the peak of freshness and expertly blended with select herbs and spices. Our commitment to using premium ingredients comes through in every spoonful - so you can serve the rich, authentic flavors of homemade every day of the week.
Gluten Free
Diabetes Friendly
No Added Sugar
Imagine™ Portobello Mushroom Creamy Soup 32 fl. oz. Aseptic Pack
Open Product Description
Pacific Foods Organic Creamy Tomato Soup, 32oz, $6.99
Pacific Foods Organic Creamy Tomato Soup contains fresh organic milk from local dairies, which is the perfect complement to the tangy sweetness of organic tomatoes. A little garlic and onion round out the flavor and add depth to this wonderful classic family favorite. Dip your grilled cheese into a steaming hot cup on a cold, winter day. Or serve cool, topped with freshly chopped tomato, cucumber and mint for a refreshing summertime twist on an old favorite. At Pacific Foods, we believe in making foods we're proud of using simple recipes and quality ingredients. We steer clear of additives and GMOs and always will. Our mission is to nourish every body, one meal at a time.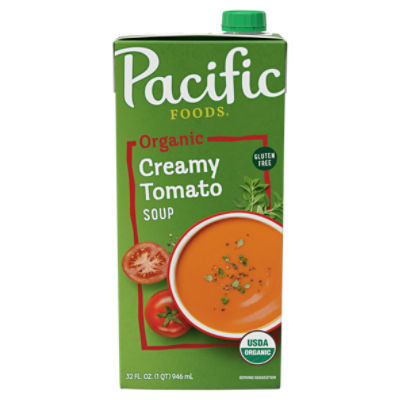 Pacific Foods Organic Creamy Tomato Soup, 32oz
Open Product Description