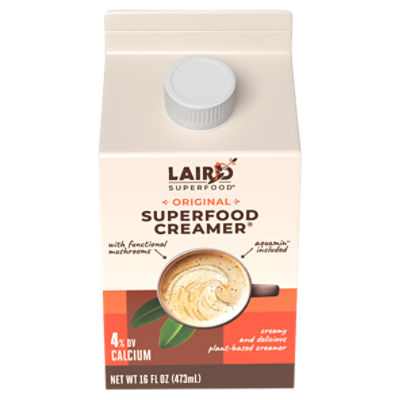 Laird Superfood Creamer, Original Superfood, 16 Fluid ounce
$4.49
was $7.99
$0.28/fl oz
Sale Information
On Sale!
Sales price valid from 6/19/2022 until 6/25/2022
Description
Laird Superfood Original Superfood Creamer, 16 fl oz Aquamin™ included Aquamin is a natural source of calcium and 72 other minerals in trace amounts Your Daily Ritual Starts Here! Plant-based fuel Superfood Creamer® with Functional Mushrooms and naturally occurring MCTs from coconuts Harness the Power of Chaga, Lion's Mane, and Cordyceps to Kickstart Your Day
Ingredients
Coconut Cream (Water, Coconut Milk); Organic Coconut Sugar; Aquamin™ (Calcium from Marine Algae); Organic Gum Acacia; Organic Mushroom Extracts (Chaga, Lion's Mane, Cordyceps);
Nutrition Facts
servings pr container
Product Number: 00810005130554
Sale Information
On Sale!
Sales price valid from 6/19/2022 until 6/25/2022
Description
Laird Superfood Original Superfood Creamer, 16 fl oz Aquamin™ included Aquamin is a natural source of calcium and 72 other minerals in trace amounts Your Daily Ritual Starts Here! Plant-based fuel Superfood Creamer® with Functional Mushrooms and naturally occurring MCTs from coconuts Harness the Power of Chaga, Lion's Mane, and Cordyceps to Kickstart Your Day
Product Number: 00810005130554
Ingredients
Coconut Cream (Water, Coconut Milk); Organic Coconut Sugar; Aquamin™ (Calcium from Marine Algae); Organic Gum Acacia; Organic Mushroom Extracts (Chaga, Lion's Mane, Cordyceps);
Nutrition Facts
servings pr container
Product Number: 00810005130554