Search results
Pepperidge Farm Farmhouse Sourdough Bread, 24 Oz Loaf, $4.49
Farmhouse is the bread you would make if you made bread. At Pepperidge Farm, we have been baking delicious breads inspired by small batch recipes and crafted with premium ingredients for over 75 years. For us, baking is more than a job, it's a real passion. Our dedication to quality shows in the care we put into every detail. Pepperidge Farm Farmhouse Sourdough Bread stays true to the classic recipe you know and love: A delicious, versatile sourdough bread baked with quality ingredients and a touch of sweetness with no colors from artificial sources. These thick slices of sandwich bread are soft, yet strong enough to stand up to any sandwich ingredient. And with a delightfully mild flavor, it's the perfect bread for sandwich lovers. Enjoy the great taste of homemade, because after all, there's no taste like home.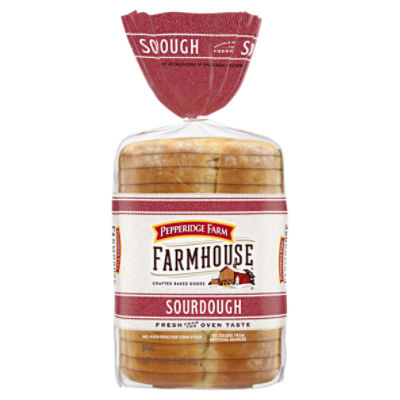 No High Fructose Corn Syrup
Pepperidge Farm Farmhouse Sourdough Bread, 24 Oz Loaf
Open Product Description
Pepperidge Farm Italian White Seedless Bread, 20 oz. Bag, $2.99
Our passion for creating breads that satisfy and delight the entire family shows in the care we put into every loaf. Pepperidge Farm Italian bread is no exception. We've taken the robust Italian bread you love and made it into a soft, moist sandwich bread you can enjoy every day. Each large, flavorful slice makes for the perfect sandwich hot or cold!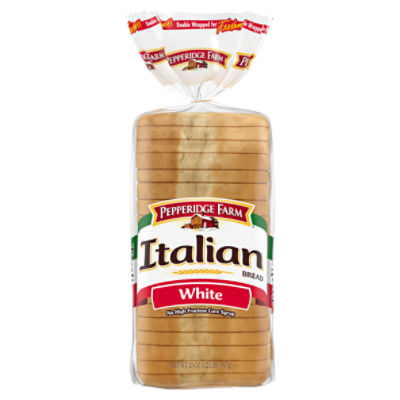 No High Fructose Corn Syrup
Pepperidge Farm Italian White Seedless Bread, 20 oz. Bag
Open Product Description