Pantry
Syrups, Cones & Dessert Toppings (2)
Search results
Bada Bing Cherries, 13.5 oz, $10.99
Twice the size of maraschino cherries, Tillen Farms' bing cherries are harvested, pitted and packed at the peak of ripeness. We've preserved their sweetness and vibrant flavor for year-round enjoyment. Snack on these cherries straight from the jar or use them to add a touch of glamour to bourbon and whiskey cocktails. 13.5 ounce.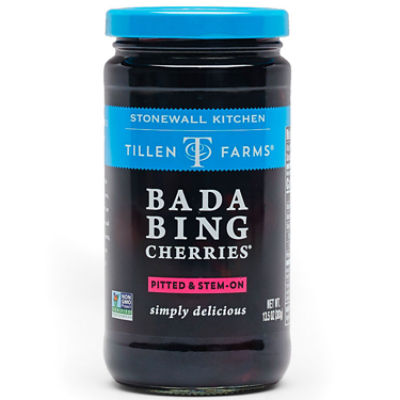 Bada Bing Cherries, 13.5 oz
Open Product Description
HERSHEY'S, Chocolate Syrup, 24 oz, $5.29
HERSHEY'S chocolate syrup is full of the genuine chocolate flavor you know and love and packed in the classic bottle. Enjoy the sweet and delicious taste of chocolate syrup on everything from cakes to cookies. It is the perfect syrup to add to your milk, hot cocoa and coffee. Try drizzling it over your brownies and cakes, or use it to make chocolate floats and sundaes. No matter what you're making or who is at your gathering, pop open the lid and squeeze, swirl, dot or drizzle the syrup onto some of your favorite drinks and desserts. Squeeze the syrup onto your ice cream sundaes as a tasty topping or stir it into a glass of milk for a classic glass of chocolate milk. The syrup is also a great way to add a little sweetness to your morning coffee. HERSHEY'S chocolate syrup is great to have on hand for every holiday so that you're always ready to create delicious treats and recipes for the entire family. This chocolate syrup is fat free and has no artificial colors. It comes packaged in a closeable and squeezable syrup bottle for easy pouring. Once you're finished, place the bottle in the refrigerator.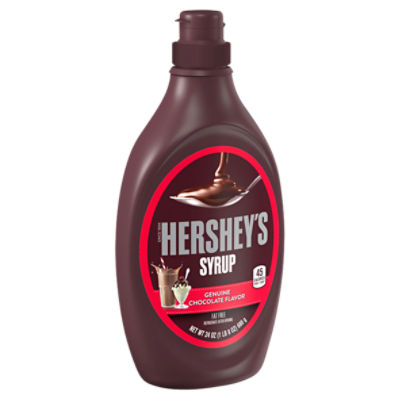 HERSHEY'S, Chocolate Syrup, 24 oz
Open Product Description