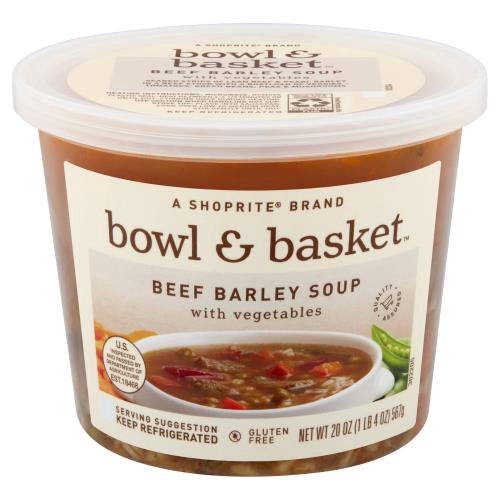 Soup, Beef Barley with Vegetables, 20 Ounce
Sale Information
On Sale!
Sales price valid from 4/11/21 until 4/17/21
Description
a shoprite brand. seared strips of lean beef & pearl barley in a beef stock with a boatload of veggies - tomatoes, green beans, peas & mushrooms
Ingredients
Water; Diced Tomatoes (Tomatoes, Tomato Juice, Salt, Naturally Derived Citric Acid); Beef Stock; Angus Beef; Carrots; Onions; Barley; Green Beans; Peas; Celery; Mushrooms; Leeks; Red Peppers; Sea Salt; Butter (Cream, Salt); Parsley; Garlic; Spices;
<

110 kilocalorie(s)

Calories
Nutrition Facts
servings pr container
% Daily Values *
Total Carbohydrate
<

13 gram
5 %
Product Number: 00041190467792
Sale Information
On Sale!
Sales price valid from 4/11/21 until 4/17/21
Description
a shoprite brand. seared strips of lean beef & pearl barley in a beef stock with a boatload of veggies - tomatoes, green beans, peas & mushrooms
Product Number: 00041190467792
Ingredients
Water; Diced Tomatoes (Tomatoes, Tomato Juice, Salt, Naturally Derived Citric Acid); Beef Stock; Angus Beef; Carrots; Onions; Barley; Green Beans; Peas; Celery; Mushrooms; Leeks; Red Peppers; Sea Salt; Butter (Cream, Salt); Parsley; Garlic; Spices;
<

110 kilocalorie(s)

Calories
Nutrition Facts
servings pr container
% Daily Values *
Total Carbohydrate
<

13 gram
5 %
Product Number: 00041190467792