Laundry
Softeners, Starch & Scent (3)
Search results
bounce Outdoor Fresh Dryer Sheets, 80 count, $8.99
We admit, the outdoors smell great. But with our Bounce Outdoor FreshTM fabric softener dryer sheets you get fewer wrinkles, softer fabrics, way less static cling, and helps to repel lint and hair - all on top of an outdoor fresh scent. Ahhhhh, now that's a breath of fresh air.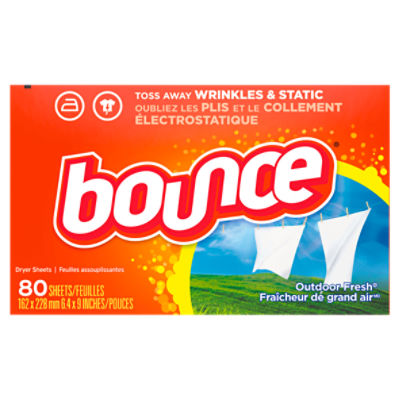 bounce Outdoor Fresh Dryer Sheets, 80 count
Open Product Description
Downy Ultra Liquid Fabric Conditioner (Fabric Softener), Free & Gentle, 60 Loads 51 fl oz, $9.99
No dyes, no perfumes, no worries: Downy Fabric Conditioner is hypoallergenic and dermatologist-tested—perfect for those with sensitive skin. Made with the same Downy conditioning protection you know and love, Downy Free & Gentle helps prevent clothes from stretching, fading, and fuzz. So you can enjoy a gentler, scentless softness for all your fabrics.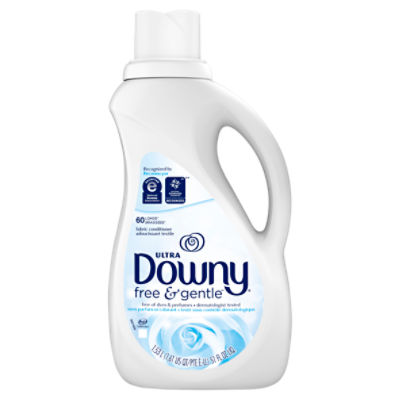 Downy Ultra Liquid Fabric Conditioner (Fabric Softener), Free & Gentle, 60 Loads 51 fl oz
Open Product Description
Ultra Downy Free & Gentle Fabric Conditioner, 60 loads, 44 fl oz, $9.99
60 Loads*n*Medium loadsnn7 BenefitsnFree of dyesnProtects colorsnSoftensnFights stretchnWrinkle reductionnAnti-staticnAnti-fuzz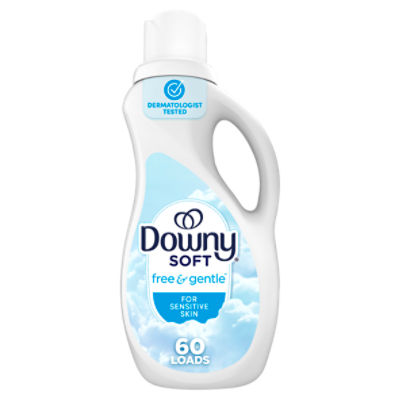 Ultra Downy Free & Gentle Fabric Conditioner, 60 loads, 44 fl oz
Open Product Description